Goan Mouth Watering Desserts
Bebinca
Bebinca or Bibinca, a rich egg based multi layered Goan cake, that can be enjoyed any time of the day.
This traditional dessert has seven layers - baked one layer at a time. Bebinca is typically prepared with some of the most commonly used ingredients like eggs, flour, coconut, sugar and spices. However, demands skill and patience to cook each layer separately while making sure not to overcook the entire cake. Bebinca is a very popular dish in Goan cuisine.
Patole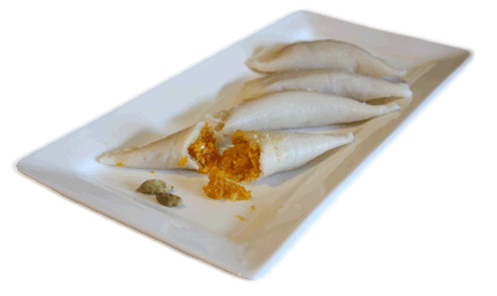 Traditionally steamed in Turmeric leaves these sweet, rice and coconut dumplings are made during monsoon season because the turmeric leaves are fresh and rice from the new crop is sticky. As the dumplings are steamed gently, aroma of turmeric leaves envelopes the rice flour batter as well as coconut stuffing. It tastes best when enjoyed steaming hot with melted ghee.
Shevaya (Rice Vermicelli with Sweet Coconut Milk)
This traditional sweet dish is generally made in Goan kitchens during the month of Shravan (July thru September). As Coconuts, Rice and Cashews are the main crops in Goa this great tasting dessert adds a sweet touch during the Poojas during this period.
Godshem
Godshem is a Konkani word for Pudding - means the sweet. This fairly simple dish is made with rice, mung dal, coconut, ghee and jaggery.