Goan Vegetarian Dishes
Goan cuisine is primarily seafood-based; however, some Goans prefer vegetarian food on certain days of the week. Curries are made with Lentils, Legumes and Beans, which are prepared in the same manner as non-vegetarian recipes. Vegetables like raw Jackfruit, Eggplant, and Cauliflower are made with chilies and grated coconut.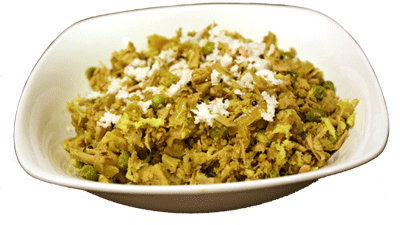 Vegetables
Mula Bhaji (White Radish with Greens), Jackfruit (raw) Bhaji , Eggplant with or without Shrimps in Xacuti masala, Cauliflower with or without Shrimps in Xacuti masala, and Valichya Shenga Bhaji are popular vegetable dishes in Goa.
Pulses / Legumes ( some prepared in Xacuti Masala )
Muga-Gathi, Green Vatana Patal Usal (Usal made with Dried Green Peas), Masoor Amti (Amti made with Lentils), Chavalichi Amti (Amti made with Black-Eye Peas), Rasachi Daal (Lentil with Coconut milk), Olya Mirchichi Daal (Lentil with Green Chilies), Garam Masalyachi Daal with white Radish (Lentil with Xacuti Masala) are just a few of the popular Goan vegetarian curries we offer. The list of vegetarian curries is endless due to the inventive attitude of the Goan housewife.