Goan Side Dishes
The side dishes in Goan Food are as flavorful as the main course. They serve to complement but not disturb the main dish. The side dishes play a great supporting role in the menu.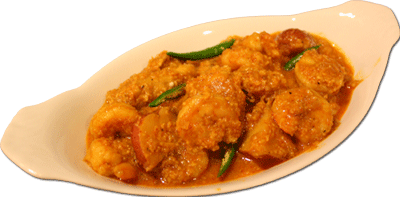 Fish Suke
Fish Suke is also called "Dabdabit" in Konkani. This is a semi-dry spicy preparation of fish, eaten as a side dish or with Amboli or chapati. Fish Suke can be made with Shrimps, Pomfret, King Fish, Spanish Mackerel and Salmon.
Shrimp Balchao
This Portuguese-influenced Goan dish is made in a spicy and tangy tomato-chili sauce and is one of Goa's most popular dishes. It is actually a condiment and often described as "Shrimp Pickle." Shrimp Balchao is eaten cold.
Shrimp Pickle
Shrimp Lonche is a very popular preparation in Goan households. This mouth-watering, spicy yet not fiery-hot flavor makes you crave for more. Prepared with fresh herbs and spices, this pickle is served cold. Its flavor stands out when complemented with vegetarian dishes.
Stuffed Pomfret
This traditional dish is very delicious and flavorful. Pomfrets are stuffed with spicy and mouth-watering green chutney (made with coconut, chilies, coriander) and marinated in a blend of Goan herbs and spices. It is coated with our custom batter and shallow-fried till crunchy on the top while juicy and tender inside. Due to its demanding cooking technique, Stuffed Pomfret is not commonly prepared.
Kismoor
During the monsoon season, Sun-Dried Fish is an integral part of the diet, as stormy Seas make fishing difficult. Dried Mackerels, Shrimp, King fish (Surmai), and Bombay Ducks are used in various dishes. Of these, the Suka Bangda Kismoor, or dried Mackerel Salad, is one of the most popular preparations. We offer Kismoor made from Dried Mackerel, dried and fresh Shrimp, and fresh Crab Kismoor.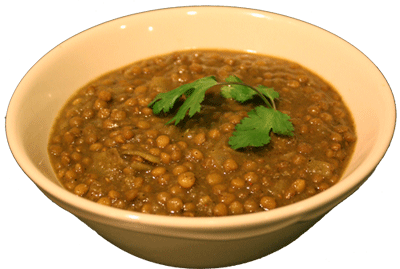 Pulses / Legumes
Green Vatana Patal Usal (Usal made with Dried Green Peas), Masoor Amti (Amti made with Lentils), Chavalichi Amti (Amti made with Black-Eye Peas), Rasachi Daal (Lentil with Coconut milk), Olya Mirchichi Daal (Lentil with Green Chilies), Garam Masalyachi Daal with white Radish (Lentil with Xacuti Masala) are just a few of the popular Goan vegetarian curries we offer. The list of vegetarian curries is endless due to the inventive attitude of the Goan housewife.
Sol Kadhi
No Goan meal is complete without Sol Kadhi and Rice. Made from coconut milk, dried kokum fruit and flavored with garlic this tart, pink curry has great digestive properties. Some folks prefer drinking it after the meal.